Walls: Wall Tile (glazed)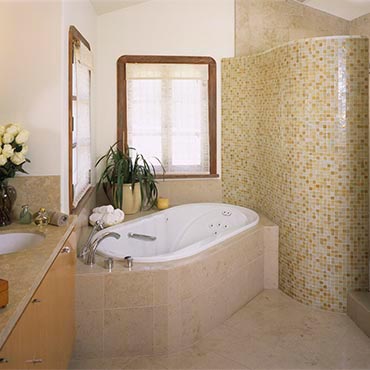 Glazed wall tile has a body that is suitable for interior wall use and which is normally non-vitreous for improved adhesion to vertical surfaces. These tiles are not required or expected to withstand excessive impact, abrasion or be subjected to freeze/thaw cycling. These tiles do not have attached spacing lugs.
Brand Overview
---

---
Profile
|
Website
|
Warranty
|
Install
|
Maintain
|
FAQs
|
Green
American Olean is capitalizing on our prominent name recognition and historically strong reputation as a quality provider of high-end ceramic tile to both commercial and residential users. The American Olean brand is distributed through approximately 100 independent distributors who service about 5,000 retail outlets. We will continue to increase our presence in the independent distibutor channel to better service our customers, particularly in floor tile products. American Olean is positioned as your preferred supplier of ceramic floor tile providing our customers with a true one-stop source.
---

---
Profile
|
Website
Ceramic Tile, Porcelain Tile, Marble, Granite, Natural Stone and More!